Jan 26

Our 2022 Impact In Your Parks!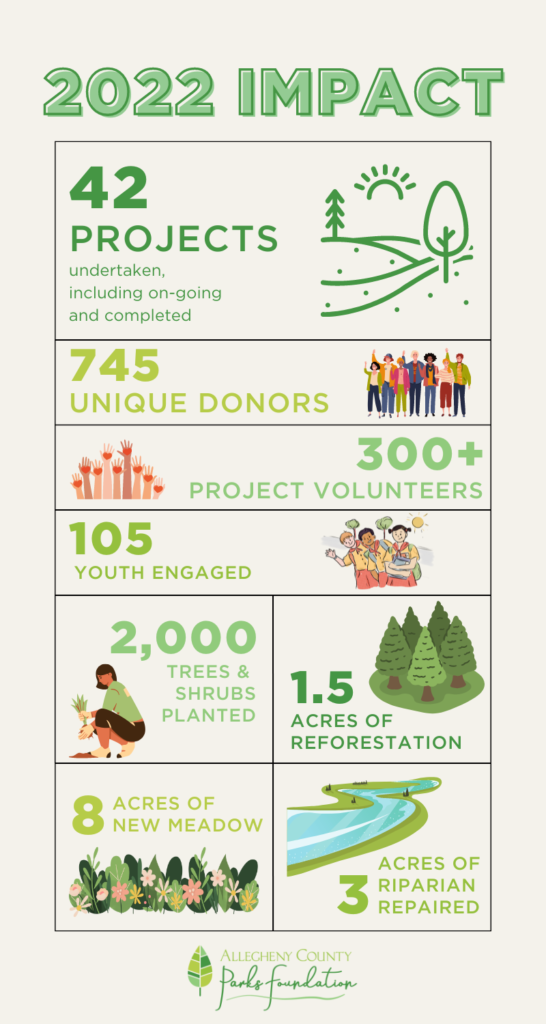 From all of us at the Allegheny County Parks Foundation, thank you to everyone who supported our work to improve, conserve and preserve the 9 Allegheny County Parks in 2022. We are so grateful to Allegheny County for being our partner in all this work, to our incredible sponsors and donors who make this work possible and to our dedicated volunteers who bring energy to the work. Together in 2022, we were able to accomplish projects across all 9 parks, such as:
The completion of the Carol R. Brown Sculpture Garden at Hartwood Acres
The groundbreaking at Suffragist Grove
The completion of Pinkertons Run Abandoned Mine Drainage and Streambank Stabilization project (phase 1)
The planting of over 2,000 native trees, perennials and shrubs
Avian Bird Count
The completion of our Trail Discovery Guide
Green Parking Lot at the South Park Oval plantings completed
Nevin Shelter restoration
South Park Signage Improvements
The assessment of the biological conditions of over 10.5 miles of streams
PROJECT DETAILS
Carol R. Brown Sculpture Garden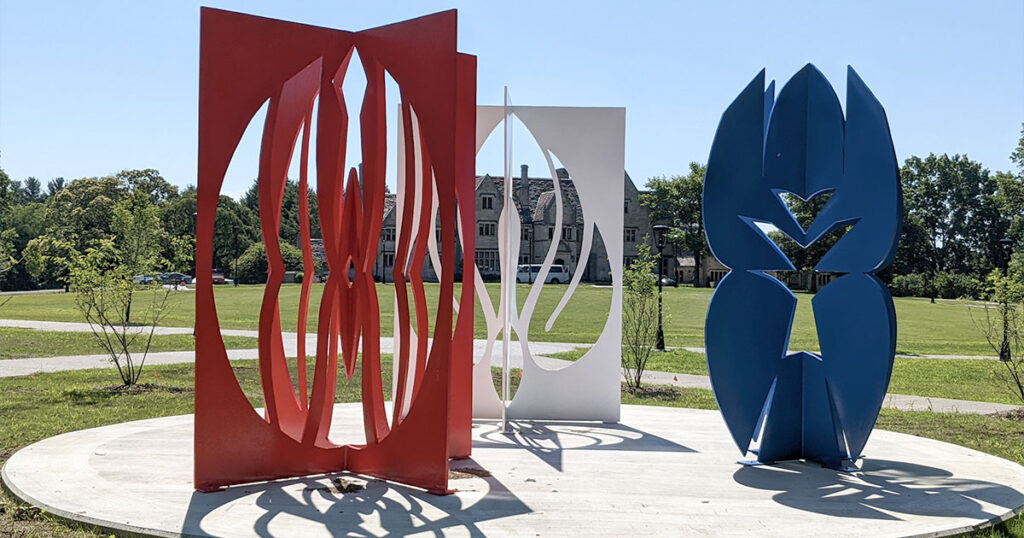 The Sculpture Garden in Hartwood Acres is our region's newest landmark destination, offering a valuable opportunity for education, art appreciation, and casual strolling in a sustainable landscape setting. The Sculpture Garden is complete and open to the public. This is our largest project to date, undertaken with Allegheny County. The garden features 14 sculptures both new and restored, new accessible pathways, stone walls, stormwater treatment and native plantings.
The Suffragist Grove was founded in Hartwood Acres in August of 2020, on the 100th anniversary of the ratification of the 19th amendment, which gave women the right to vote. This site was chosen for the grove because Mary Flinn Lawrence, who once lived at the mansion, was an active participant in the movement. Visible progress has been made in 2022 at the Suffragist Grove as 47 trees were planted this year! Work will continue in 2023 with more plantings, signage and further enhancements.
Pinkertons Run Abandoned Mine Drainage and Streambank Stabilization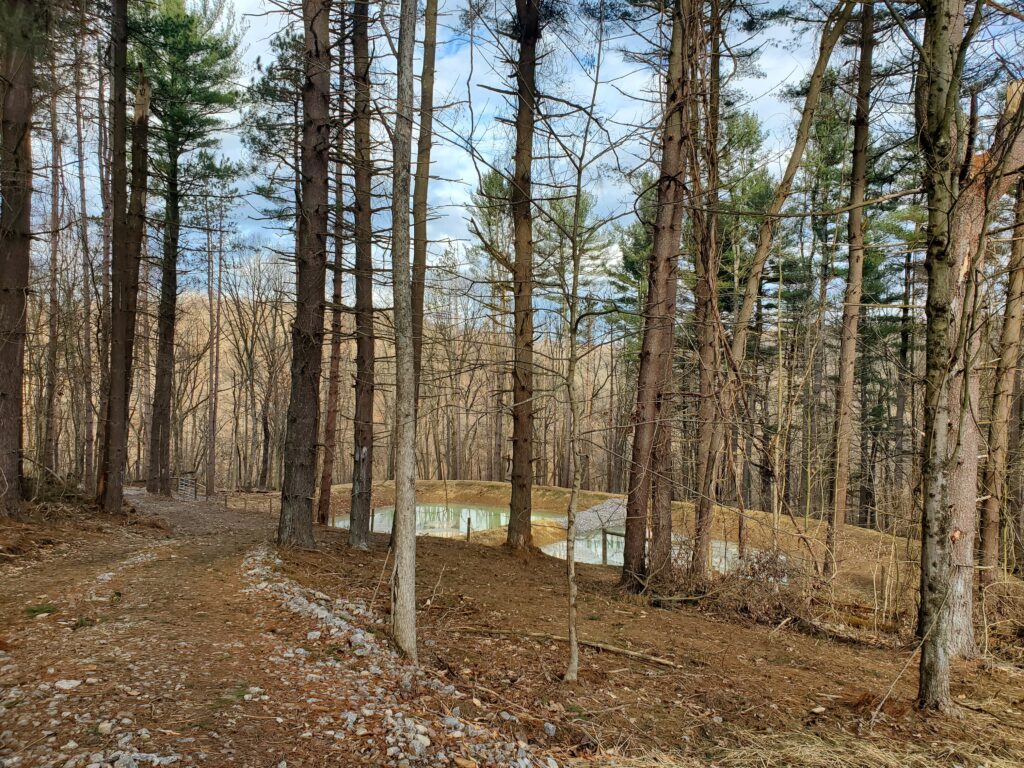 Our first phase of work cleaning up Pinkertons Run from Abandoned Mine Drainage (AMD) in Settlers Cabin Park is complete! Since 2018, the Parks Foundation and Allegheny County have been working on AMD pollution clean-up and streambank stabilization on Pinkertons Run in Settlers Cabin Park.
A treatment system has been created to capture the mine discharge by pipe and carry it to a 1,500-ton dolomitic limestone bed, which successfully raised the discharge from a 3.1 pH to 7 pH – think of that as turning orange juice into water suitable enough to host fish! 1,200 linear feet of the streambank has also successfully been stabilized using salvaged tree roots and logs from the AMD treatment system construction site. As we close out this project, we are hopeful that we can meet the goal of one day stocking Pinkertons Run with native fishes, such as trout, to be enjoyed for sport again.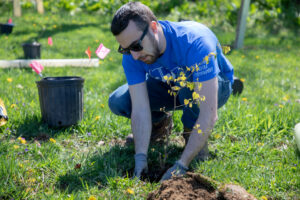 Plantings in all 9 County Parks
In 2022, in conjunction with Allegheny County, we completed a two-year, on-going series of plantings. The goal of this project was to support wildlife habitat improvement projects in the Allegheny County Parks after Tree Pittsburgh commissioned an analysis that showed a loss of 10,000 acres of tree canopy across Allegheny County from 2006-2016, greatly impacting wildlife habitat.  During that time, the Parks Foundation completed work in all 9 county parks in conjunction with Allegheny County for the first time ever! The data shown below was completed over a 2 year period.
Our work included:

2,012 trees and shrubs planted
80 perennials planted
850 live stakes planted
13 acres of meadow created
3 acres of riparian zones improved
2 acres of reforestation
3 avian monitoring sites showing an increase in bird visits
Over 300 volunteers from 10 organizations and the County Parks Department

Parks Specifics included:

13 acres of new meadow and 20 trees planted at Hartwood Acres Park
Invasive species removal and 372 total trees planted at White Oak Park along the White Trail
Planting of 129 trees and shrubs to continue to rebuild woodland understory at the Waterfall Trail at Settlers Cabin Park
Riparian plantings at the beaver pond at Settlers Cabin Park adding 350 trees and shrubs and 400 live stakes
Removal of invasive species along the pond edge at Deer Lakes and Harrison Hills Parks, planting of 600 trees and shrubs and 450 live stakes
443 additional tree plantings across South Park, Boyce Park and Round Hill Park
Planting of 98 trees and shrubs along the edge of the Mound Meadow and 80 perennials in the ephemeral ponds in North Park
In habitats across the world, birds face challenges caused by climate change and human actions. The United States and Canada have lost more than three billion birds in the past 50 years, but there's some good news in a few of your parks! We were able to determine in 2022 that bird visits and bird diversity have increased after habitat improvement projects were installed at three of the four monitoring sites in South Park and Boyce Park. Baseline counts were performed in 2018-2019 at these sites prior to the improvement projects. We were also able to perform baseline counts for two additional sites, one in Settlers Cabin Park that was reforested and one in Hartwood Acres Park that was converted to a meadow. These baseline studies will help us monitor avian counts in the future! The counts were performed by the Audubon Society of Western Pennsylvania.
The Trail Discovery Guide to the 9 Allegheny County Parks provides trail descriptions and easy-to-follow maps to make venturing into the parks a little easier. To get you started, the Allegheny County Parks Foundation, in partnership with Allegheny County, selected two unique trails in each of the 9 parks. These 18 trails offer a variety of terrains, elevations, lengths and interesting features to help you select the perfect location for your outing. Each trail and map can be downloaded right from our website.
Green Parking Lot at the South Park Oval
The Green Parking lot at the South Park Oval officially opened in 2021 and the plantings were completed in 2022. The permeable paver surface is designed to capture and store as much as 90,000 gallons of storm water in underground drainage systems at any given time, managing the runoff that would typically flow to the Fairgrounds and Catfish Run below. This popular lot on the busy Brownsville Road at Corrigan Drive holds 125 cars and features an attractive bench-lined promenade to offer visitors a scenic resting spot. The parking lot hosts over 100 trees, hundreds of perennials in perimeter landscape beds, and two large rain gardens with native plants.
Nevin Shelter, located in South Park, was one of the original stone structures designed by Paul Riis, the first director of the Allegheny County Parks and a renowned landscape architect. It was built in 1931 and is located on Corrigan Drive between Brownsville Road and Sesqui Drive. Restorations to the shelter included repointing and repairing the stonework, a new roof, a new fireplace, new gutters, and interpretive signage. The restoration will be complete once the stone seats are in place.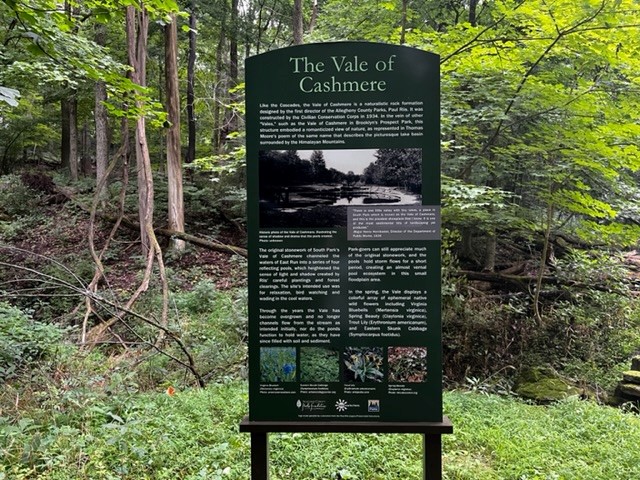 South Park Signage Improvements
New interpretive signage has been installed in South Park. Interpretive signage is an educational sign meant to enhance the park experience for visitors by providing accurate and visible details about locations of park facilities and amenities. The Vale of Cashmere, Nevin Shelter, and the Paul Riis Meadow all feature new interpretive signage so you can learn more about your park and appreciate its historical and ecological features.
The streams assessment completed by Penn State Extension-Master Watershed Steward Program includes recommendations that will allow the Parks Foundation to prioritize projects that will improve the streams in your county parks. In 2022 we had three teams simultaneously assess waterways in Hartwood Acres, Harrison Hills, and White Oak to capture all the data needed for the study. The Master Watershed Stewards who have implemented the protocols necessary for the assessments contributed over 880 hours of work to Phase 1 and assessed roughly 10.5 miles of streams in all seasons and all weather. The end-goal of these assessments is to enhance the condition of the parks and visitors' experiences and the environmental quality of these natural resources in the parks. Streams in Deer Lakes, Round Hill and Settlers Cabin will be analyzed in 2023; in 2024 North Park, South Park and Boyce Park are scheduled to be studied.