Jun 02

Sculpture Garden gets new sculptor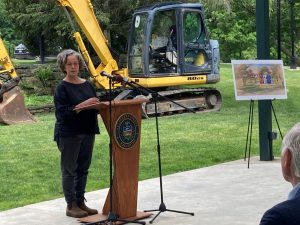 PITTSBURGH – Allegheny County and the Allegheny County Parks Foundation celebrated the start of the next phase of the Sculpture Garden at Hartwood Acres with a ceremonial groundbreaking at the park this morning. County Executive Rich Fitzgerald was joined by Parks Foundation Board Chair Chip Babst, Sculptor Dee Briggs, and Allegheny County Regional Asset Board Member Jackie Dixon for a brief program before the groundbreaking.
"Since Allegheny County purchased Hartwood Acres in 1969, there have been ongoing investments in the park and development of its natural resources, including the addition of trails and an amphitheater, but none as large as this project," said Fitzgerald. "The sculpture collection was added beginning in the mid-1980s and has since grown to include 13 pieces at an estimated value of $2.4 million. By placing the bulk of these pieces of art at center stage, the public has more opportunity to engage with this art than ever before. We are grateful to everyone that has been involved in the project, or supported it, and look forward to seeing even more people coming to Hartwood Acres once this work is complete."
This phase of construction on the Sculpture Garden is an extensive makeover of the entire site around the historic mansion. New ADA-accessible sidewalks will wind through the estate's lawns and landscapes with walkways providing a continuous connection between the restored sculptures. The two parking lots will be renovated as well, and feature rain gardens to help manage stormwater runoff on-site. LED site lighting will be provided for all new paths and parking lots. Some additional stone paver hardscapes and plaza spaces will also be constructed, and portions of the existing asphalt roads will be widened and resurfaced. Nearly 300 trees, over 100 shrubs, and thousands of perennials will be planted, almost all of which are species native to southwestern PA.
"The Sculpture Garden at Hartwood Acres is by far the largest and most complicated project the Parks Foundation has undertaken in partnership with Allegheny County," said Chip Babst, Board Chair of the Parks Foundation. "We are very grateful for the many private funders who have helped make the project possible so far."
In addition to celebrating the ceremonial groundbreaking, the Allegheny County Parks Foundation also announced that it has commissioned sculptor Dee Briggs to create a new sculpture for inclusion and placement in the Sculpture Garden. Briggs, a resident of Wilkinsburg, was selected by a 11-member selection panel and was chosen from a group of over 80 artists considered for the commission.
"I am delighted and honored to have my work join the important and influential sculptors represented in this collection, such as Clement Meadmore and Charles Ginniver," said Briggs. "Because of the sculpture collection, Hartwood Acres Park has always been a special place for me. I look forward to working in its spectacular landscape."
Additional attendees included County Council Member Anita Prizio, county Parks Director Andy Baechle, county Facilities Management Director Al Caponi, and county staff. Representing the Allegheny County Parks Foundation were Executive Director Caren Glotfelty along with additional staff and board members, the Parks Foundation selection panel members, and the Carnegie Museum of Art. Funders, including representatives from the Allegheny Regional Asset District, participated as well. Members of the Friends of Hartwood Acres Park and representatives of the construction and design teams rounded out the group.
The Sculpture Garden at Hartwood Acres is made possible in part by the RADical ImPAct Grant program, which was launched in 2019 to celebrate 25 years of the Allegheny Regional Asset District (RAD). The grants were designed to support bold, forward-looking projects that would shape the creative landscape of the region for the next 25 years. Out of nearly 50 proposals, 12 were selected, including "Art in Parks" – a joint project between Allegheny County and the City of Pittsburgh. "Art in Parks" was awarded a $1,500,000 grant with $1,000,000 going toward the Hartwood Acres Sculpture Garden and $500,000 going toward new art commissions for each of the City's five RAD-funded parks.
"The Sculpture Garden at Hartwood Acres is exactly the type of large-scale, community-minded project we hoped would come from our RADical ImPAct grant program," said Jackie Dixon on behalf of the RAD Board. "It is a terrific example of how RAD's reinvestment of tax dollars enhances our quality of life and place. This garden will be a true gift to the residents of Allegheny County, and a destination for out-of-town visitors to experience the world-class art and magnificent natural resources our region has to offer."
Additional funders to date include Allegheny County, Allegheny Foundation, Charity Randall Foundation, Citizens for the Arts in Pennsylvania, Fine Foundation, Fox Chapel Garden Club, The Garden Club of Allegheny County, a member of The Garden Club of America, Hillman Foundation, Jack Buncher Foundation, Opportunity Fund, PNC Charitable Trusts, and generous individuals.
The Sculpture Garden at Hartwood Acres is a project of the Allegheny County Parks Foundation. Eleven sculptures were gifted to Hartwood Acres Park in the 1980s, when it was first envisioned as an arts and culture park. Two other sculptures have been added since County Executive Fitzgerald took office. Now much-needed expert art conservation is nearly complete on this valuable collection, and the Sculpture Garden is taking shape after several years of planning. When completed, the sculptures will be repositioned on new concrete foundations in cohesive groupings that will help visitors better appreciate their grandeur and significance.
To date, Monumental Holistic Image IV is restored and in its new location near the entrance to the park. Stretch has been restored and is still in its original location on the Middle Road side of the park. It will be relocated after the site is graded and the new base is installed. The rest of the pieces have been restored and relocated. Additionally, the Ring Series sculpture is still in Ohio being restored and will not return until grading is done and the new base is installed. Totem:Lamina:Limbus (aka Sculpture Grove) has been restored and is being held off site until the site is graded and the new base is installed. North Light and Tower Iron #5 are new additions to the collection with North Light being donated by Annie Lewis from Oxford Development Co.  Tower Iron #5.is a long-term loan of the Carnegie Museum of Art coordinated by Eric Crosby.
The $3.9 million construction project is being done by Plavchak Construction Co., Inc., of Elizabeth, PA. LaQuatra Bonci Associates of led the design team which also included principal landscape architect Fred Bonci, project landscape architect Dan McDowell, and sculpture restoration coordinator Morton Brown.
This phase of construction is expected to last until the end of the year.