Oct 26

Joey-Linn Ulrich Announced As New Executive Director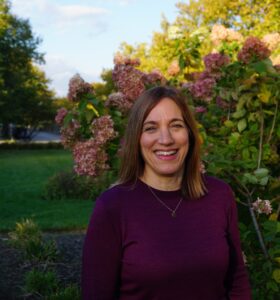 The board of directors of the Allegheny County Parks Foundation has announced Joey-Linn Ulrich as the new executive director of the Foundation after a year-long executive director search following the retirement announcement of Caren Glotfelty in June of 2021.
The Parks Foundation raises public and private funds from foundations, corporations, state and federal grant programs and individuals to design and implement projects in Allegheny County's nine parks in partnership with Allegheny County.  Glotfelty has served as executive director since 2014 and led the organization through expansive growth in their funds raised and projects undertaken.
Glotfelty has overseen significant advances at the Foundation in her eight years at the helm. During that time, the Foundation has raised more than $5 million for projects in the county parks. "It has been a great privilege and joy to work over the past eight years with the dedicated board and staff of the Allegheny County Parks Foundation and Allegheny County. The 12,000 acres of nature and recreational facilities in our county parks are a tremendous asset contributing to the health and vibrancy of our region," Glotfelty said.
Joey-Linn Ulrich will begin serving as the third executive director of the Parks Foundation on November 1, 2022. Joey-Linn, a native Pittsburgh resident, has over 25 years serving in the nonprofit sector with a significant amount of that time working in organizations that connect people with the outdoors. She is excited to continue work in this sector as the incoming executive director for the Allegheny County Parks Foundation.
"We're thrilled to welcome Joey-Linn Ulrich to the Parks Foundation and look forward to working with her as we continue to partner with the Parks Foundation to make projects happen across our parks system," said County Executive Rich Fitzgerald. "We appreciate Caren's work and wish her great enjoyment in her retirement."
Ulrich has most recently served as the Chief Operating Officer for the Mon Valley Initiative and, prior to that, served as the executive director of Economic Development South. In these roles, she is most proud of her work in helping to address healthy food access by ensuring the Produce Marketplace, a nonprofit grocery store located in Clairton, continued growth as a new model for healthy food access. She also served as the executive director of Venture Outdoors and spent six years with the Girl Scouts organizations where she advanced efforts in outdoor recreation and education for program participants as well as lead efforts to improve the business and technology components of each organization to support new program growth.
"We are excited to have Joey-Linn join us, and we are confident that her values, experience and love of the outdoors will enable the Parks Foundation to continue its key role of working with the County to implement meaningful projects that enhance our great county park system," said Chip Babst, chair, Allegheny County Parks Foundation board of directors.