Jul 28

Dee Briggs talks art and more*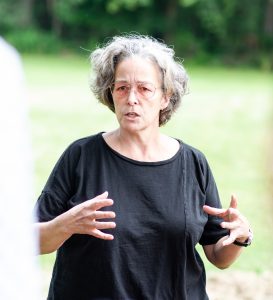 Dee Briggs is a Wilkinsburg-based sculptor with a national reputation. Yet she has never been commissioned to create an artwork for a local outdoor public project.
Until now.
The Sculpture Garden at Hartwood Acres Park, a project of the Allegheny County Parks Foundation, in partnership with Allegheny County, is currently under construction after several years of planning. Briggs was chosen by an 11-member selection panel from more than 80 artists to create a new work for this unique site.
We asked Briggs a few questions about this project. She provided these thoughtful responses.
You will be the fourth female sculptor to have a work in this collection. What is the significance of that to you?
In truth, when I think of my own identity, the fact that I am female is not at the top of my list. I am a sculptor. I am a motorcyclist. I am Spanish. Etc. My gender has never played a significant role in my internal view of myself. But as I get older I increasingly understand how significantly things like gender and race – as seen from the outside – play into the trajectory of a person's life, their opportunities and subsequent accomplishments. So I feel that it is very significant and I hope that the Allegheny County Parks Foundation will continue to add work made by female sculptors.
What was it about the opportunity for this commission that drew you in?
I have a very personal relationship with this collection and park. Several of the sculptures in the Hartwood Acres collection are from artists who worked with the brother duo, Eddie and Bobby Giza, foreman and head welder at Lippincott in Connecticut. Lippincott was one of 'the' places for large scale sculpture fabrication from the 60s into the late 80s. Bobby and Eddie had their hands on most if not all of the work made at Lippincott by artists in the Hartwood Acres collection including: Jack Youngerman, Lyman Kipp, Clem Meadmore, Chuck Ginnever and David von Schlegell, as well as artists Claus Oldenburg, Tony Smith, Louise Nevelson, and Donald Judd to name just a few. Lippincott closed its doors in 1994 but the Giza brothers have continued to work with several artists independently. In 2002, as I graduated from Yale University with my Master of Architecture degree in hand, I was introduced to Bobby and Eddie. We were fast friends and they took me under their wing. They gave me my first studio in a room above their shop that had been full of junk and spent a few years teaching me much of what I know about welding and metal fabrication. They also taught me how to drive a forklift and run a crane. It was through Bobby and Eddie that I truly learned about the history of minimalist sculpture. And if it weren't for their mentorship, I would never have been able to pull off my first public installation at Chicago's Navy Pier in 2003. When I accepted a teaching position at CMU and prepared to move back to Pittsburgh, Bobby gave me very clear instructions to immediately visit the Meadmore piece in front of the PNC headquarters, von Schlegell's sculpture – then on Grant Street – and "make sure you find a place called Hartwood," he said.
What stands out to you about the Sculpture Garden?
I don't really think of Hartwood Acres as a sculpture garden. I think of it more as a magnificent park with an excellent sculpture collection. And what I appreciate most about that is the weaving of architecture, landscape and sculpture – my three favorite things balancing each other.
What got you interested in large-scale sculpture?
I studied architecture in both college and graduate school. While in graduate school I fell in love with working with my hands. The combination of the two led me to large scale sculpture. I also make smaller scale work but I often set tiny little scale people next to it and imagine building scale sculpture!
Speak about our region's history as an influence in your work.  
Like everyone born and raised in Western Pennsylvania and the Upper Ohio Valley, I grew up surrounded by the industrial landscape of the steel industry. When I first started working in steel I largely denied that it was related to my childhood – I just loved the material – but I've since shed the denial. My work today is focused on A588 steel known as CorTen. This is a type of steel that was innovated and brought to market by US Steel right here in Pittsburgh. Since my return in 2003 I have sought out the broad and deep knowledge and capabilities of companies in the region working in steel. And I now have my own 20,000 sq. ft. fabrication shop in the heart of Lawrenceville.
Do you have a favorite piece in the Hartwood Acres collection?
That's a tough question – there are several that I love. But one does stand out the most because of a more personal experience. In the summer of 2016 I had been invited to visit the Voigt Foundation in Northern California to discuss a long-term artist residency. While touring the work installed on the grounds at the Voigt I encountered my second Charles Ginnever sculpture – which was quite different from Stretch. It was one of his kinetic pieces approximately 120 feet long and suspended from and weaving in and out of the trees. My host reached out, grabbed the end of the sculpture and set the piece in motion and my heart leapt. It was the most exhilarating sculpture I'd ever experienced. That evening I looked him up and was surprised to see that he had a website with an AOL email address. I couldn't believe my luck. I wrote and introduced myself, telling him of my experience earlier that day. And I told him that I would be in New Hampshire later that summer visiting friends less than two hours from his Vermont studio. If he was going to be there – I'd love to make the trip to meet. This was his response:
"I'll be here to welcome you. On August 6th my family members will be here and we're having a pot luck for my 85th birthday. There are lots of works in my fields."
It's hard to explain what it was like to spend the day with Chuck and his family in his studio and wandering around his fields. It was very similar to the immediate chemistry that I found with Richard Serra and Louise Bourgeois, both of whom I first met while at Yale. And the friendship forged with El Anatsui who I had the pleasure of working with for the 57th Carnegie International a few years ago. I know that it is a rare gift to find your people in this world.
What's on your playlist?
Curtis Mayfield, Sarah Vaughan…..Cher.
*The Sculpture Garden at Hartwood Acres is made possible in part by the RADical ImPAct Grant program, which was launched in 2019 to celebrate 25 years of the Allegheny Regional Asset District (RAD). The grants were designed to support bold, forward-looking projects that would shape the creative landscape of the region for the next 25 years.
Additional funders to date include Allegheny County, Allegheny Foundation, Charity Randall Foundation, Citizens for the Arts in Pennsylvania, Fine Foundation, Fox Chapel Garden Club, The Garden Club of Allegheny County, a member of The Garden Club of America, Hillman Foundation, Jack Buncher Foundation, Opportunity Fund, PNC Charitable Trusts, and generous individuals.
Fundraising for this signature project is ongoing. If you would like to explore ways to support the Sculpture Garden at Hartwood Acres, email
Caitlin Harpster
or call her at 724.327.7627.