Apr 15

Caren Glotfelty To Receive PA Environmental Council Lifetime Achievement Award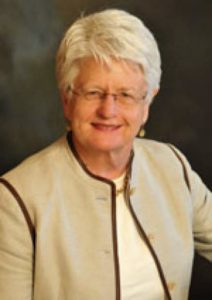 Caren Glotfelty, executive director of the Allegheny County Parks Foundation and longtime Pennsylvania environmental leader in academia, government and non-profits, is honored by PennFuture with a 2020 Women in Conservation Lifetime Achievement Award.
Glotfelty has devoted her career to public service, at Pennsylvania State University where she led on environmental conservation, at the state level where she advised on environmental policy and protection and in the philanthropic community where her research and expertise helped guide millions of dollars to environmental non-profits.
"To be recognized by PennFuture, which I have long admired for its work on the forefront of protecting the people of Pennsylvania and its natural resources, is very significant to me. I am honored to be among the list of past and current lifetime recipients, as we all share a deep commitment to this vital, timely work," said Glotfelty.
PennFuture will present Glotfelty with the award at a dinner on October 8, 2020 at The National Aviary.
A native Californian, the daughter of florists, Glotfelty came to Pennsylvania for graduate work at the University of Pennsylvania. She would go on to hold multiple positions at the Department of Environmental Resources dating to ratification of the Environmental Rights Act to the PA Constitution in 1971. The act protects "clean air, pure water and the preservation of the natural, scenic, historic and aesthetic values of the environment." She advised DER lawyers on creating assessment processes for permit requests, regulations and enforcement, particularly on the safe construction of landfills.
In 1991, she was named the first Deputy Secretary for Water Management by former Gov. Robert P. Casey Sr. where she was responsible for the development and management of all state policy and regulatory programs related to water quality, drinking water, sewage treatment, ground water protection, storm water management, wetlands and stream protection and dam safety.
From 1995 to 2000 she held the Goddard Chair in Forestry and Environmental Resources Conservation at Pennsylvania State University where her work included teaching, research, outreach and leadership on topics and issues related to state and local environmental and natural resources policy. She was the first and only woman to hold this position. In 1998, former Gov. Tom Ridge appointed her to co-chair the Governor's 21st Century Environment Commission. The findings and recommendations of that commission resulted in the creation of the state's Growing Greener fund in 1999, which has funded billions of dollars to conservation and reclamation efforts.
In 2000 she was recruited to serve as Senior Program Director of the Environment Program at The Heinz Endowments. For 13 years she was responsible for managing an annual grant portfolio totaling $8 to $13 million, addressing issues such as community revitalization, environmental health, green building, energy conservation, renewable energy and parks, trails and natural land conservation. By the time of her retirement she had guided the Heinz Endowments trustees in granting more than $100 million to environmental non-profits throughout the state.
During her tenure she also created the Breathe Project, a multi-channel communications strategy aimed to change people's perceptions about Pittsburgh's air quality without tarnishing the positive image of the community itself. She was an early visionary in the creation of Pittsburgh-based Women for a Healthy Environment and serves on the board to this day.
She was a major strategist in producing the Brookings Institution's 2003 comprehensive report, Back to Prosperity: A Competitive Agenda for Renewing Pennsylvania, which explored avenues for economic progress in Western Pennsylvania and throughout the state. While at the Endowments, she also co-chaired former Gov. Ed Rendell's Outdoor Taskforce and from 2008-2013 she chaired the State Comprehensive Outdoor Recreation Plan Planning Committee. In 2014 she chaired the Conservation and Natural Resources Committee of the transition team of newly elected Gov. Tom Wolf.
She was recruited out of retirement in 2014 to head the Allegheny County Parks Foundation. As executive director her experience as an educator, water and land conservationist, regional planner, government policy maker and now, fundraiser, is deployed to improve, conserve and restore the nine Allegheny County Parks that are visited 22 million times each year.
"I've spent many years working to repair some of the dire ecological consequences of industrialization to our region. It's a joy and privilege to now concentrate on the needs of 12,000 protected acres in our county parks – an abundant and rare asset for a single county," she said of joining the Parks Foundation.
At the Parks Foundation she has brought greater visibility to the ecological needs of the nine Allegheny County Parks by partnering with the Western Pennsylvania Conservancy to conduct ecological studies of four parks, with plans to complete studies of the remaining five. These studies have led to the plantings of hundreds of trees to recover the region's declining tree canopy, riparian border stabilization measures to improve stream water quality and converting acres of mowed turf into crowd-pleasing meadow habitats of native perennials for pollinators and small animals. An avid birder, Glotfelty partnered with the Audubon Society of Western Pennsylvania to install 100 Chimney Swift habitat towers throughout the nine parks making it one of the largest concentrations of towers in the country. Currently she is overseeing design plans that will find green storm water solutions to the conversion of a park's asphalt visitor parking lot and the design of acid mine drainage treatments that will restore aquatic life to a once-popular stream.
In addition to her work at the Parks Foundation, Glotfelty also founded and provides leadership to the Allegheny Green Web, a network of nearly 30 agencies and municipal, recreational and environmental organizations in Allegheny County created for the purpose of building connectivity through trails and open spaces. Glotfelty also serves as the Board Chair of the Conservation Voters of Pennsylvania, which advocates for clean water, clean air and open spaces by electing state and local legislators who support strong environmental policies.
Glotfelty has been honored many times in her career. In addition to those awards already mentioned:
The Pennsylvania Environmental Council honored her with its Lifetime Achievement Award in 2014.
The PA Parks and Forests Foundation recognized her work to preserve the state's natural resources, promote outdoor recreation and engage citizens on environmental issues and solutions by awarding her the 2014 Cliff Jones Keystone Legacy Award.
Pittsburgh's Group Against Smog and Pollution honored her in 2010 as one of its 40 Environmental Heroes to celebrate its 40th Anniversary;
Former Gov. Ed Rendell and Mrs. Rendell awarded her the Pennsylvanians Lighting the Way Award in 2005;
In 2004, she received the Friend of Pennsylvania award from 10,000 Friends of Pennsylvania
She received the Three Rivers Environmental Award from the Pennsylvania Environmental Council in 2000.
The Pennsylvania Recreation and Park Society granted her its Governmental Award in 1999.
Glotfelty advocates for young people seeking a career in environmental fields, is a mentor to women pursuing all careers and is an adviser to the Society of Women Environmental Professionals. The Women and Girls Foundation honored her with the Women Greening Pittsburgh Award in 2011 and she won the Branching Out Award in 2011 from the Women's Group of the American Forest Foundation.